"How do managers and directors optimise their commercial strategy and what are the success factors?
Managers and directors are becoming increasingly critical of the way their commercial team operates. This is one of the interesting developments that we see based on our earlier research among over 450 managers and directors with sales and/or marketing responsibility.
The data in the study show a common thread: people are increasingly focusing on ways to identify (potentially) profitable customers more quickly. This avoids wasting time on customers with little value. These developments were already seen before COVID-19, but the pandemic seems to have accelerated them.
A shift is taking place in the commercial strategy of organisations. More and more preference is given to a limited number of strategic appointments with very high potential, instead of large quantities of 'leads' and appointments. Newsletters are hardly ever sent and call centres are used less and less. We see an increase in the use of market information and careful preliminary research (account-based sales & marketing). Moreover, more and more basic commercial processes are being automated.
The choice to be commercially strategic instead of chasing every opportunity seems obvious, but what does it mean for the way your sales and marketing department works? What is the role of intelligent technology and what are the innovations in this area? Is your organisation ahead or behind in these developments compared to those around you?
In order to gain insight into these issues, The Blue Hour conducts a benchmark study. This research focuses on how managers and directors optimise their commercial strategy and what the success factors are.
By participating in the study, you can use the results to improve the quality of your leads in the short term and increase your sales and marketing conversion. Moreover, you will gain insight into how your fellow managers and board members deal with developments in sales and marketing.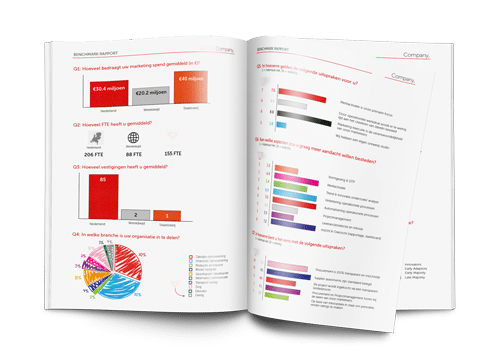 Topics
What new technologies are the frontrunners using?
How do sales and marketing work together optimally?
How can the ROI of a sales appointment be influenced?
What will be the role of data and market information in sales and marketing activities?
How does lead qualification contribute to higher conversion?
What developments will impact your organisation in the next 3 years?
Advantages of participation:
You will receive a personal presentation of the benchmark report by our specialist at your location.
Compare with your environment
The specialist hands over the benchmark report with your answers and the answers of your peers.
We will send you periodic updates on the results of our benchmark research.
Participate

to the research

When participating in the online survey, you will receive the benchmark report from us with which you can easily compare yourself with other anonymous participants.

The benchmark report is presented and discussed by a specialist of The Blue Hour in a personal meeting. Filling in this questionnaire takes about 10 minutes. With these results, we can compile your report.
Participants you include
preceded